Taking the time to relax and rejuvenate with your friends is a great excuse for a get-together! Read on for home pamper party ideas that will leave your guests feeling pampered, revitalised, and utterly cherished.
Pamper parties are an opportunity to bond with friends, indulge in self-care, and create lasting memories.
What better way to do so than by hosting a luxurious home pamper party for your girlfriends?
1. Pamper Party DIY Spa Stations:
Transform your living space into a haven of relaxation by setting up a series of DIY spa stations. Provide fluffy bathrobes, soft towels, and an assortment of skincare products. Set up facial stations with various masks, exfoliants, and moisturisers.
Don't forget about nail care stations complete with nail polishes and soothing hand treatments.
2. Delicious Refreshments:
No pamper party ideas are complete without a selection of sweet treats and refreshing drinks. Create a spread of indulgent yet wholesome snacks, such as fruit platters, premium chocolates, and herbal teas. For an added touch of elegance, offer champagne or sparkling water infused with fresh fruits. No pamper experience can be complete without essential hydration!
3. Guided Meditation and Mindfulness:
Incorporate mindfulness into your pamper party ideas with guided meditation sessions. Invite a professional meditation instructor or use online meditation resources to lead your guests through moments of rest and relaxation. Alternatively, create a playlist of calming meditation tracks that your attendees can enjoy as they unwind.
4. DIY Beauty Product Making:
Elevate the pamper party experience by hosting a DIY beauty product making session. Set up a crafting area where your guests can create their own personalised bath salts, sugar scrubs, or face masks. Provide an array of natural ingredients and essential oils, along with easy-to-follow recipes. Not only will your guests enjoy the opportunity to craft their own products, they'll also take home a piece of the pampering experience and the associated memories.
5. Aromatherapy and Zen Vibes:
Elevate the ambiance of the pamper party by incorporating aromatherapy. Fill the air with calming essential oil scents such as lavender, chamomile, and eucalyptus. Consider placing essential oil diffusers, scented candles, or wax warmers, strategically around your home to create an atmosphere of tranquillity. Complement the aromatic experience with soft, soothing music to enhance the overall relaxation.
6. Creative Dress Code and Photo Booth:
Encourage your guests to dress in luxurious loungewear, silk robes, or comfortable chic attire that complements the pamper party theme. Create a captivating photo booth with a backdrop of plush pillows, soft throws, and elegant décor. Your guests can capture memorable snapshots of the event while showcasing their glamorous ensembles, perfect for their next Instagram post!
Forever Living Pamper Party Ideas
Hosting a home pamper party for adults opens the door to a world of relaxation, rejuvenation, and cherished memories. Whether you opt for DIY spa stations, aromatic indulgence, guided mindfulness, or creative DIY activities, your guests are sure to leave feeling pampered and revitalised.
What better way to get all the products for your pamper party ideas with a Forever Start Your Journey Pack. Through Network Marketing, Forever Living Business Owners are involved in the distribution of items all over the world.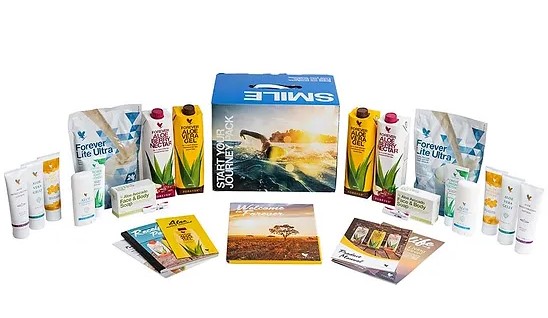 Forever produces and distributes a wide range of health and wellness goods with a purpose to help people live a healthier, happier, and more fulfilled life.
By purchasing the Start Your Journey Pack, you will receive a collection of Forever's most popular products and key literature. You will also achieve Assistant Supervisor status on Forever's Marketing Plan and receive a 30% discount on all subsequent orders.
We hope you've found these ideas useful for your next pamper party.
Why not share these ideas on social media and see which friends reply – guestlist sorted!!